'Relaxed' Chris Robshaw returns to openside for first time under Eddie Jones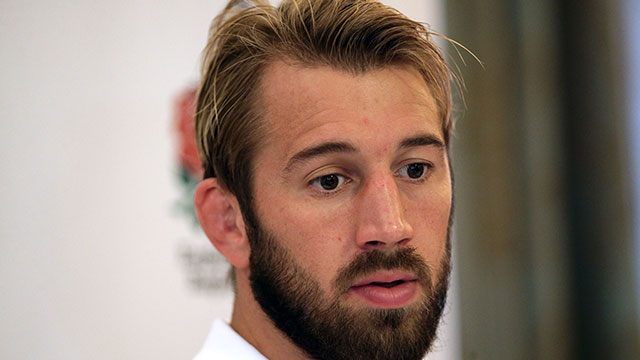 Chris Robshaw's return as England openside and figurehead against Samoa on Saturday will be undertaken with a fresh perspective shaped by his fluctuating fortunes.

Robshaw fills the seven jersey for the first time since the 2015 World Cup when the hosts endured a bitter group exit that resulted in the appointment of Eddie Jones, who had described the Harlequin as a "six-and-a-half at best" in a disparaging newspaper column.

A back row injury crisis has seen Robshaw reinstated to his old position for the first time in the Jones era and he has also been named co-captain at Twickenham alongside George Ford after Dylan Hartley was given a supporting role from the bench.

The lowest point in Red Rose history coincided with the nadir of Robshaw's career, but the 31-year-old is back in familiar territory having won the admiration of the once-sceptical Jones.

"As you get a bit older you get a bit more relaxed, you don't take things to heart as much, and you have that experience," Robshaw said.

"You have the pain, the good times, the bad times, and you can see when there's a guy having a bit of a tough situation or there's a guy about to get his first cap or even his 50th cap, and you've been through that roller coaster already.

"And you can speak to them. People often think about these Winston Churchill speeches, a lot of the time it's just being there for people, showing people you care.

"At the moment with England we have a very good squad who want to do well, who want to succeed - and who care about each other.

"We all go through those tough times, whether it's selection or media or not playing well, whatever it may be.

"It's trying not to get too down in the bad times, trying not to get too high in the good times. It's trying to keep a pretty level head and take everything with a pinch of salt."

England are overwhelming 1-200 favourites to deliver the 22nd victory of Jones' 23 Tests in charge, even allowing for the nine changes made to the starting XV that routed Australia 30-6.

If nothing else, a Samoa team that has lost all six of their internationals this season will provide a full-blooded physical examination.

"Touch wood I've never been in a car crash, but I can imagine that playing Samoa is as close to one as you can come," said Leicester fly-half Ford.

"They get their energy from making big hits and winning collisions and they're very good at it.

"I made my first start against Samoa one autumn and got done a couple of times. Our skills have got to be on the money because if not they'll just come for you, flying off the line and wanting to hurt you."