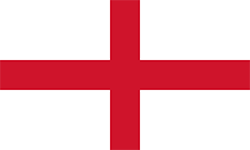 England RWC 2015 Fixtures
England became the first host nation to exit a Rugby World Cup at the pool stages, following defeats to Wales and Australia at Twickenham. Those defeats meant that England's 60-3 victory over Uruguay in their final pool match was nothing but a dead rubber.
Buy official tickets and hospitality packages for Rugby World Cup matches at Ticketmaster.
England Rugby World Cup 2015 Fixtures
ENGLAND 35-11 FIJI at Twickenham Stadium, London
Friday 18th September 2015 – Attendance: 80,015
Referee: Jaco Peyper (SARU)
ENGLAND: (18) 35
Tries: Penalty, Brown (2), B Vunipola
Conversions: Ford, Farrell (2)
Penalties: Ford (2), Farrell
FIJI: (8) 11
Tries: Nadolo
Penalties: Nadolo, Volavola
Man-of-the-match: Mike Brown (England)
Match reports: BBC | Guardian | Telegraph | Sky Sports | RFU
ENGLAND 25-28 WALES at Twickenham Stadium, London
Saturday 26th September 2015 – Attendance: 81,129
ENGLAND 13-33 AUSTRALIA at Twickenham Stadium, London
Saturday 3rd October 2015 – Attendance: 81,080
Referee: Romain Poite (FFR)
ENGLAND: (3) 13
Tries: Watson
Conversions: Farrell
Penalties: Farrell (2)
AUSTRALIA: (17) 33
Tries: Foley (2), Giteau
Conversions: Foley (3)
Penalties: Foley (4)
Man-of-the-match: Joe Launchbury (England)
Match reports: BBC | Guardian | Telegraph | Sky Sports | RFU
ENGLAND 60-3 URUGUAY at Manchester City Stadium
Saturday 10th October 2015 – Attendance: 50,778
Referee: Chris Pollock (NZR)
ENGLAND: (21) 60
Tries: Watson (2), Easter (3), Slade, Nowell (3), Penalty
Conversions: Farrell (4), Ford
URUGUAY: (3) 3
Penalties: Berchesi
Man-of-the-match: Nick Easter (England)
Match reports: BBC | Guardian | Telegraph | Sky Sports | RFU
England Warm-up Match Results
During the summer England played three warm-up matches in preparation for Rugby World Cup 2015. England began by beating France at home, then losing to France away, and finally beating Ireland at home. The match results are shown below:
ENGLAND 19-14 FRANCE at Twickenham Stadium, London
Saturday 15th August 2015 – Attendance: 63,113
Referee: John Lacey (IRFU)
ENGLAND: (12) 19
Tries: Watson (2), May
Conversions: Farrell (2)
FRANCE: (9) 14
Tries: Ouedraogo
Penalties: Parra (3)
Man-of-the-match: Anthony Watson (England)
Match reports: BBC | Guardian | Telegraph | Sky Sports | RFU
FRANCE 25-20 ENGLAND at Stade de France, Paris
Saturday 22nd August 2015 – Attendance: 65,000
Referee: Jaco Peyper (SARU)
FRANCE: (15) 25
Tries: Huget
Conversions: Michalak
Penalties: Michalak (5), Spedding
ENGLAND (6) 20
Tries: Cipriani, Joseph
Conversions: Ford (2)
Penalties: Ford (2)
Man-of-the-match: Frédéric Michalak (France)
Match reports: BBC | Guardian | Telegraph | Sky Sports | RFU
ENGLAND 21-13 IRELAND at Twickenham Stadium, London
Saturday 5th September 2015 – Attendance: 80,138